Cooling Options
Is your air conditioner past its prime? If your unit is looking at retiring, we have replacement options for you. With units available in 1.5 to 5 ton options, we'll offer you units that fit your home and save you money on your utilities.
Looking at installing central air conditioning? We can still help solve your cooling needs. Whether it includes installing duct runs or modifying your current ductwork, our qualified refrigeration and sheet metal technicians can help. Through ClimateCare, we offer a private label of air conditioners, heat pumps and furnaces.
Don't have duct work and not excited about installing it? We have ductless split options available too. These units are located to offer optimum cooling to your home, and the indoor unit can be hidden in the ceiling or mounted on the wall.
Similar to central air, a ductless split has an indoor unit containing a coil and fan, and an outdoor unit containing the compressor. The units are connected by line sets that use refrigerant to cool the air.
A ductless unit offers flexibility. It allows you to cool your whole house or just one room, like a window air conditioner. Since the ductless unit is not placed in the window, it does not need moved during the colder months. It also does not have the open window security risks.
We have 4 brands of ductless splits available – Carrier, Mitsubishi, Sanyo and Fujitsu. Our office will recommend the units that work best for your situation.
Heat Pumps
Looking for and option to heat and cool your house? A heat pump is a great option for homes that are looking to have an all electric system. Whether you are looking for a ground source or air source option, our team can help come up with a solution for you.
Geothermal:
We offer the WaterFurnace line of geothermal heat pumps, which comes with a 10 year parts and labour allowance. For the home owners who have high hot water usage, an upgrade to include a preheating option for your water heater is available.
Considering an infloor heat option too? Your WaterFurnace can heat the water going through the infloor piping.
Emke Schaab ClimateCare has been installing WaterFurnace units for over 25 years, and our technicians are continually being trained on service, installation and repair of units.
Air Source:
For those who don't have a lot of land to fit the geothermal loops, an air source heat pump is a great option for heating and cooling. The outdoor unit is slightly larger than a standard air conditioner, and is paired with an air handler or furnace inside your home, keeping your home comfortable in the most extreme temperatures.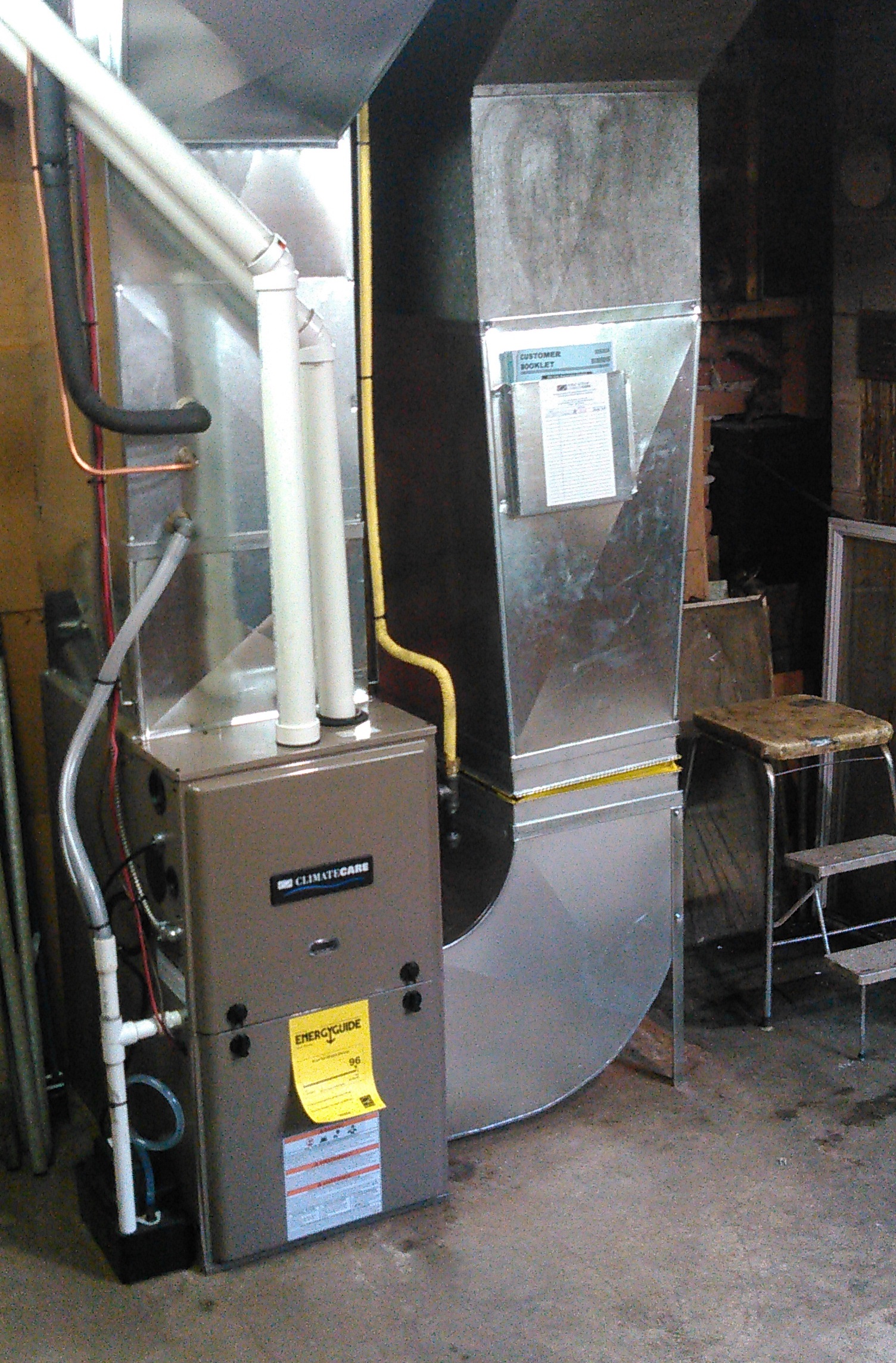 Heating Options
Keeping your family warm is an important job! Trust your family's comfort to one of our heating options. Our team will work with you to come up with options that will work for your family and home.
Gas Furnaces:
Heating with natural gas is currently one of the most cost efficient options. If you currently have a forced air furnace, upgrading to a high efficient unit is a great way to save money on your home's annual bills.
We offer ClimateCare units with an efficiency of 95% on our entry level unit, with two-stage and modulating units available. All units are propane convertible and come with a 10-year parts warranty.
Oil Furnaces:
Oil is still a very popular option in our area. If it is time to upgrade your unit, we offer Newmac Oil furnaces and Wood-Oil Combination units. Our licensed oil technicians ensure the unit is set up for your home's heating needs.
Oil Tank Replacement:
Insurance companies have been tightening the reigns on oil tanks over the past few years. If your insurance company is insisting on you upgrading your tank, we can help.
Wood-Propane Combination Furnaces: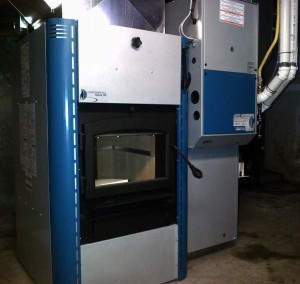 Is gas not an option for your home? Are you looking at getting away from oil? Is wood a cost effective heating option? Do you need a fuel back up? Continental has a solution for you. Traditionally known for their fireplaces, Continental has developed a sleek line of furnaces, including their Wood-Propane Combination option. This is a unit that will look great in your basement, and keep your home comfortable.
Boilers:
Is your home set up for heating with radiators? Do you want to combine your heating system with an instantaneous hot water option?
We understand that a lot of homes are set up to use the radiator heating, and changing to a forced air system isn't always a cost effective or desirable option. By offering Veissmann boilers, we have a solution for home owners who are looking for more efficient heating options while sticking with their current heat distribution methods. And, the tankless water heater upgrade is a nice option for many homeowners. Available in natural gas, propane and oil options, our salesperson can help you find the unit for your home.
If you are changing from oil to propane or natural gas, the units have become more compact and free up more space in the mechanical room.
Fireplaces:
Curling up by the fire is a great way to relax during the cold winter months and on chilling fall nights. If you don't want to deal with chopping and piling wood, then a gas or propane option is a great alternative. Fireplaces are available in modern and contemporary styles that offer some customization to match your lifestyle.
A great perk of a gas fireplace is that it can be used as a source of heat during power outages. Now, if you have a unit with electronic ignition, make sure the battery back-up is replaced on a regular basis, or it won't kick in during an outage.
Thermostats
Thermostats are the key to your home's comfort. Without being able to operate it, you can't control the indoor temperature, the fan setting can't be adjusted and you might not be able to adjust your indoor air quality equipment. It is important to have a thermostat that is compatible with your equipment and that you understand how to use.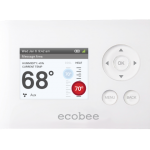 With the creation of Smart thermostats, you can control your home comfort from your smart phone, tablet, laptop or work computer. Creating programming schedules that match your busy lifestyle is easier than ever! Plus, ecobee thermostats allow for the dealer to get alerts of high/low temperature alerts, filter change notifications, and more.
We offer a variety of programmable, non-programmable, smart and communicating thermostats with a variety of capabilities. Whether you have a modulating furnace or zoned boiler system, we have a thermostat that will work for you. Contact our office for more information.
Indoor Air Quality
With the amount of time your family spends indoors, investing in the indoor air quality system of your home could mean easier breathing, less colds, and more.
Carbon Monoxide Detectors
Carbon monoxide is an odorless, tasteless and colourless gas that can be toxic in high levels. It is a by-product of combustion. Our technicians will test for carbon monoxide while maintaining your unit, but we recommend having a carbon monoxide detector by gas appliances to help detect early issues in your home and help prevent more serious issues.
Carbon monoxide poisoning can present itself as dizziness, fatigue, flu-like symptoms without the fever, confusion, memory loss, coordination problems, nausea, and feeling faint.
Heat Recovery Ventilators (HRV)
Does your home ever feel stale or stuffy? That is because the flow of fresh air into the home is incorrect for the house's needs. Without any system that deals with this, there is no controlled amount of fresh air coming in, thus causing your home to get too much or not enough. The perfect solution to fixing the flow of fresh air into your home is to install a Heat Recovery Ventilation system or an HRV.
Air Filtration:
Filters help your furnace breathe. They also protect you from breathing in extra particulates from your home. For the optimal filter performance, a standard 1" filter should be replaced every 1 or 2 months. A larger 5" filter should be replaced every 6 months to 1 year, depending on your home. If you have animals, heavy traffic through the house, or smoke indoors, replacing your filter more often will improve the air quality in your home.
Humidifiers:
Did you know that the average home has a humidity level of 15% in the winter and that the Sahara Desert has a 25% average humidity level?
Well, that low humidity level causes many problems for the body and the home. A simple way to fix it is to install a Humidifier. A humidifier will reduce dry skin and static electricity; it will decrease asthma related upper respiratory problems and help allergies. It will preserve your wooden furnishings and floor from shrinking and separating or your piano from losing tone. Another advantage is that it is cost efficient, as it doesn't require you to heat your home as high and most units use less than $20 of water a heating season.