Water Heaters
Hot water is nice to have. Whether it is from a tankless, spacesaver or normal water heater, Emke Schaab has your hot water solution. With Electric, Gas, Propane and Oil options available, we can find the unit that meets your home or cottage's needs. Primarily using John Woods units, we have 40 USG electric and gas water heaters always in stock and can get nonstock units usually within 24 to 48 hours.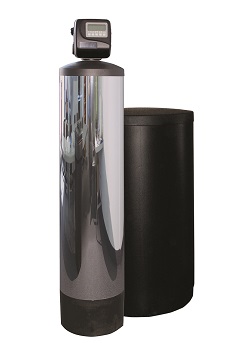 Water Treatment
We understand the water in Grey-Bruce can be problematic. Whether it is too hard, contains iron, smells or you're worried about bacteria, we have solutions to help. By testing your water at your home or in our office, we can make a recommendation to help solve the water issues.
With solutions that include high-efficient water softeners, compact models, taste and odour filters, iron filters, ultraviolet systems, and reverse osmosis systems, we have a solution that will work for you. And, we have rental options available for consumers who are interested.
Contact our office today to set up for a free quote from our comfort advisor and free water testing for hardness, iron, manganese, tannins, TDS and PH.
Plumbing Fixtures
Redoing the old bathroom? Looking at updating the kitchen?
Whether it is a full bathroom renovation or just a small upgrade, our team can help find the options that work for your home and your style.
Replacing the tub or shower? We offer Kohler, Maax, and Mirolin brands. All of which offer a large selection of products to suit any need or desire. Whether you are looking for a modern freestanding tub or a traditional tub-shower combination, our sales team can work with you to find the ideal option for you.
Is it time to replace the toilet? Are you looking for an option that is a little higher or an elongated front? Do you have a young child who is starting to potty train?
For replacement toilets, we primarily offer a Mansfield option. For customers who are looking for something more specific, we also offerGerber, Crane, American Standard, and Kohler. All brands offer standard height and right height options. For the young ones in your life, we offer the Bemis Next Step toilet seat (in round front and elongated) to make potty training less intimidating.
Replacing your bathroom cabinets? Consider upgrading your bathroom sink too!
American Standard and Kohler have great modern and traditional options that will update your bathroom.
Your tub and sink faucets are an important part of your plumbing system. When selecting a new option, there are many options to consider – single or two handle, tub fillers, tub/shower combinations, adjustable handheld showerheads, modern or traditional, chrome or a different colour option, the list goes on. American Standard, Moen, Kohler and Delta have options to help you pick an option that suits your style and home.
Your kitchen is where a lot of time is spent. When it is time to change out the kitchen sink, you want to replace it with a sink that will suit your needs. Whether you need a single or dual sink, topmount or undermount, Kindred or Kohler have a selection for you.
Pumps
Pumps have key functions in a building. Whether it is pumping water into the house, circulating liquid through the pipes, or removing liquid from the building, a broken pump can cause a lot of issues.
Well Pumps
Homes and businesses on a well based water system rely on a submersible or jet pump to get water. Our technicians are trained to service and install both pump types. On larger systems, we work with the manufacturer to design a pumping system that fits the situation.
Circ Pumps
A circ pump circulates gases, liquids or slurries in a closed circuit. This can be utilized in radiant heating, geothermal loops, boiler systems and domestic hot water solutions.
Condensate Pumps
Your furnace is produces condensation when in operation. The installer will have set it up to drain. If there isn't a nearby floor drain, the furnace may require assistance, so a condensate pump may be installed to assist in the draining away of condensation. Anytime the furnace is maintained, the condensate line and pump should be checked for build up and proper operation
Sump Pumps
Sump pumps remove water from sump pits or basements. These are ideal for buildings located close to bodies of water or springs, or if you home has a history of flooding during snow melts or heavy rains. Whether it is a stand alone sump pump, you're installing one with a back up system, or you need a sump pit, we can help.
Sewage Pumps
For homes that have a sewage pit in their basement, we sell replacement pumps. If the sewage pit has become damaged, we can help you replace that too!
Let us know if we can help with any of your pumping needs!
Tanks
Expansion Tanks
Used to protect closed water systems and hot water tanks from excessive pressure caused by thermal expansion, an expansion tank may be a solution to your plumbing issues. These tanks also help reduce water hammer noises. 
Systems that have backflow preventors may have find an expansion tank beneficial, especially if your pressure relief valve has a history of leaking on your water heater.
Pressure Tanks
A pressure tank helps well water systems provide constant pressure to the home. By storing a small resevoir of water that activates and shuts off the call for water from the pump. It also helps preserve the life of your pump by allowing it to only run when needed instead of all the time.